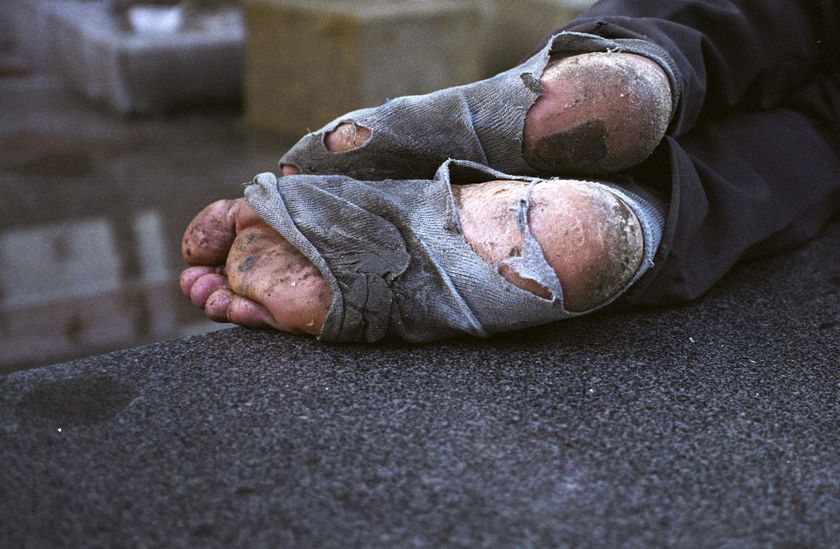 It's four o'clock in the morning, and the rest of the city's asleep.
But you're up keeping park benches company
with the imaginary company you keep.
There's a brown paper bag in your past now,
your best friend trusted and true.
And as you settle down tonight against the chilly black air,
that bottle will be talking to you — it says:
Hey there buddy, will you listen to me?
Life can strip you naked of your pride and your name
And love will leave you saying to the cold dark rain,
I need you.
He thinks there's nothing left to live for,
He knows that everything has to die.
He sees a black widow spider devour her mate,
and through his eyes he understands why.
So to his brown paper womb he'll retire each night,
to forget about his miserable life.
He'll dream of stone hard sons, and watery daughters,
and cry for his black widow wife —
he says:I can't understand how you ever loved me,
when all I ever gave you was pain.
And I left you saying to the cold dark rain, I need you.
So tomorrow morning he'll wake up,
and search his bottle for that last loving drop.
And he'll curse to himself that his matches are wet,
as he caresses a cigarette butt.
For the rest of the day, he'll wander the streets,
making faces at the people he sees.
And cause he'll need another bottle as the sun goes down,
he'll be begging from the people he meets –
he says:Hey there buddy, can you help me?
I need another friend for the night
Don't leave me saying to the cold dark rain, I need you.
---
Bob Blatchley – Bass, Electric Guitar
Frank Imburgio – Guitar, Drums, Keyboards, Vocals, Words & Music